For those living in the Phoenix area, trees are an essential part of life. From providing shade from the hot Arizona sun to adding appeal to your property, trees play a vital role in both form and function. That's why it is important to ensure that any tree is cared for properly and safely. This is where Chips Tree Service's commitment to tree care in Phoenix comes in.
Chips Tree Service is a professional tree care service that specializes in providing the best tree care for Phoenix residents and businesses. They have an experienced team of arborists led by Jack Herndon, who holds all current and up-to-date certifications to provide tree care services in the state of Arizona.
For our latest blog post, we are here to discuss the benefits of hiring a professional tree care service for residential and commercial properties beyond just simple tree trimming. He notes that there are many advantages to trusting your trees to experienced professionals like Chips Tree Service.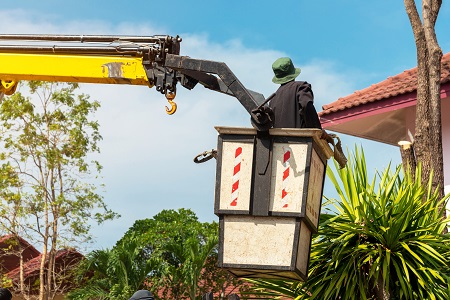 Industry Knowledge and Experience
Maintaining trees can be difficult, time-consuming, and dangerous if done incorrectly. By hiring a professional tree care service, you can rest assured that the job will be done safely and correctly. They are more than just a tree pruning service; a professional tree care service can help you maintain your trees safely because they have been doing so for years.
For large property owners such as golf courses and resorts, knowing you can trust an arborist's experience makes hiring commercial tree services all that much easier. And customer service becomes a breeze as you can trust the counsel you're paying for. Furthermore, you'll know you're receiving proper tree care because your business will look great!
Professional Equipment to Make Any Job Easier
You might consider performing tree care services yourself. But hold on, even with all the knowledge in the world, it bears asking: do you have the right tools? Tree care is a very dangerous profession that sometimes involves chainsaws, great heights and plenty of rope. By using our professional equipment, we can ensure that your trees are properly cared for correctly and that our tree care specialists are free of any hazards or damage.
Chips Tree Service has the latest and most advanced arborist equipment, which enables us to safely complete a wide range of tree care services. This includes everything from trimming, pruning, thinning, removal and stump grinding. Since Chips Tree Service owns and maintains all of its equipment, we are able to schedule you quickly and complete your service in a timely manner. This makes us significantly quicker and provides customers with faster turnaround times.
Can Identify Potential Diseases and Pests
Professional tree care services have the ability to identify diseases, pests, and other potential problems with your tree. This is especially important if you notice any signs of disease or pest infestation in your trees. Common pests in Arizona include beetles, mites and aphids. By performing a thorough inspection of your tree, Chips Tree Service can help you identify any issues that could be causing damage to your trees. By addressing these issues as soon as possible, our team can help ensure that your tree remains healthy for years to come and need not be removed or replaced.
Help Select the Right Tree For Your Property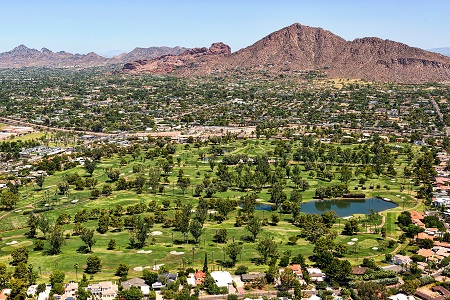 Most tree service companies don't just focus on removing diseased branches, trees or even stumps. They can also help plant new trees as well! This isn't just planting a sapling, either. They can plant a fully-formed tree! A tree services company can help you choose the best tree for your property. By taking into account things such as climate, soil conditions, and water availability, Chips Tree Service can help you select the right tree that is sure to thrive in Arizona's desert environment.
Can Help Increase the Appeal of Your Home
While it is often debated whether planting a tree increases the objective value of a property, planting the right tree can actually increase the curb appeal of your property and, therefore, the subjective value to the right buyer. A well-maintained tree can not only provide shade, but it can also create a sense of privacy and security for your business or your family. Trees add visual interest to any landscape, making them an attractive feature that potential buyers are looking for when viewing a property.
What most people don't realize is that it typically doesn't matter what type of tree you plant, according to Homes and Gardens, climate permitting. For homes and businesses in colder northern climates, deciduous maples, oaks, and birches work best. For homes and businesses in hotter southern climates, more heat-resistant species like palms, ash and cypress are preferred.
Fruit trees such as oranges, peaches and lemons are also a great idea for planting, and the free food is always a great selling point to potential buyers. Willow trees can be planted in Arizona as well, but they need plenty of water nearby. It is also important to note that where you plant a tree is oftentimes more important. A willow too close to the home or a pool can cause irrevocable property damage, reducing value.
But a well-maintained healthy tree, located on the far side of the lawn from the property, can provide unmatched curb appeal.
Tree Care Companies Also Offer Other Services
There's more to tree services than just caring for the living ones and trimming any dead branches. Arborists provide services like tree removal, stump removal and tree planting. Chips Tree Service is the premier professional arborist service for Phoenix Residents.
We specialize in providing the best tree care services for Phoenix residents and businesses. They have an experienced team of arborists led by Jack Herndon, who holds all current and up-to-date certifications to provide tree care services in the state of Arizona.
By trusting Chips Tree Service for your property, you are ensuring your trees are in the best hands and receiving professional tree care. With our combined industry knowledge, professional equipment and certified arborists, you can rest assured that your trees will stay healthy and look great for years to come! Contact us today via our website or call us at (602) 854-4930.