We Provide Tree Removal Services You Can Rely On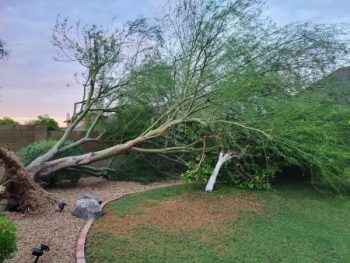 Trees are an important part of any landscape, but they can also pose a safety hazard if they are not properly maintained. At Chips Tree Service, our professional tree removal experts are licensed and insured to safely and efficiently remove your trees. We understand that tree removal can be necessary for safety reasons or to improve the look of your property, and we are committed to providing outstanding customer service and proper tree care. As a local tree company in Phoenix, Arizona, we are proud to offer a wide variety of tree services, including grinding and removal of tree stumps, tree trimming, new tree planting, maintenance, and more. Our 100% satisfaction guarantee ensures that we get the job done right the first time. Contact Chips Tree Service today to get a free quote!
Give Us A Call For Tree Trimming and Removal Today
Regular trimming and pruning services are essential for maintaining the health and structure of your trees. By selectively removing dead or damaged branches, our professional tree service experts can help your trees continue to grow strong and stable. In addition, trimming can also be used to control the shape and size of your trees. This is especially important for trees that are located close to buildings or power lines. By properly managing the growth of these trees, the risk of damage to your property can be significantly reduced. Whether you have a yard full of palo verde trees or a large property with Desert Willows and Arizona Cypress trees all over, Chips Tree Service has the experience and expertise to keep your trees healthy and looking their best. Contact us today to learn more about our tree care services.
There are many reasons why you might need a tree removed from your property. It could be a dead tree that has become an eye sore, or there might be a safety reason if the tree is leaning or posing a threat to the residents, or even for aesthetic reasons. But removing a tree is not as simple as getting a chainsaw and cutting it down. There are a lot of factors that have to be considered before a tree is cut down and removed from a property. When you call Chips Tree Service for tree removal, our team will want to collect as much information from you as we can so we know what to expect when we arrive. The type of tree you need to be removed, any other services you're requesting (trimming, tree branch removal, stump grinding, etc.), and how many trees you want to be removed from your property are all important factors that will help us determine an accurate quote for the cost of tree removal.
We also need to know if the tree is close to any power lines or structures. Once we have all the necessary information, our ISA Certified Arborists will provide you with a free quote. We strive to provide the best possible service at the most affordable price, and we'll work with you to find a solution that meets your needs. At Chips Tree Service, we believe that safety is a choice, not a chance, so you can rest assured that our team and your property will be protected.
We're Here To Help When You Need Emergency Tree Removal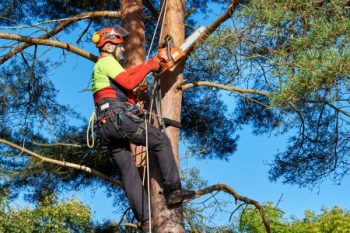 Dead trees, damaged trees, dangerous trees, or new landscaping projects are all reasons why you would need a tree removed. However, storms and other disasters can expedite the need to have a tree removed. If you need an emergency tree removal service in Phoenix, don't hesitate to give us a call. If you find yourself in this situation, don't try to remove or cut the tree away yourself. This is extremely dangerous and could result in serious injury. Instead, call Chips Tree Service. We are a professional tree removal company that is always prepared for emergency situations. We will come to your property, assess the situation, and provide you with a free estimate. We have the proper equipment and training to safely and efficiently remove trees from your property. So don't take any chances – call Chips Tree Service today!
Common Tree Removal Questions
Why should I remove a tree?
There are several reasons why you may want to remove a tree. Trees can become a safety hazard if they are diseased, damaged, or leaning dangerously. Additionally, a tree may need to be removed if it is causing damage to your property or nearby structures or obstructing the growth of other plants in your garden.
How much does tree removal cost?
There are many factors in pricing for tree removal, such as type of tree, location, height, etc. Call us for a free quote at 602-253-3200.
Do I need a permit to remove a tree?
It will depend on where you live and the local regulations in your area. Some cities or counties may require a permit for tree removal, particularly if the tree is located on public property or is considered a protected species. Check with your local authorities to determine if you need a permit before removing a tree.
Is it safe to remove a tree myself?
Tree removal can be dangerous, particularly for larger trees or those located near power lines or buildings. It is recommended that you hire a professional tree removal service to ensure that the job is done safely and efficiently.
What happens to the tree after it is removed?
Once the tree has been removed, the tree removal service will typically dispose of the tree in an environmentally friendly way. It may involve chipping the wood for mulch or firewood or hauling the tree away to a landfill or recycling center. Some tree removal services may also offer to leave the wood on your property for your use.
Stop Searching For Tree Removal Near Me. We've Got You Covered
At Chips Tree Service, we understand the importance of healthy trees. Not only do they provide beauty and shade, but they can also increase the value of your property. Whether you have a residential or commercial property, our team is here to help! We offer a variety of tree services, including tree removal, tree trimming, and stump grinding. We also offer other types of tree services, such as tree fertilization and new tree planting. Our team is committed to providing high-quality, cost-effective tree care services for the residents of Phoenix, Arizona. When you need tree services, don't hesitate to give us a call!