We Are Your Local Tree Care Company In Chandler
Trees are an important part of the landscape as they provide shade, erosion control, and an element of beauty. However, like any other living thing, they require care and maintenance to stay healthy. At Chips Tree Service, we have ISA Certified arborists with years of experience providing the residents of Chandler with tree removal services, stump grinding, new tree planting, and other tree care services. As your local tree company, we strive to provide the highest level of care for your Arizona native trees all year long, keeping them healthy and vibrant. All of our services are backed by a 100% satisfaction guarantee, which means if we make a mistake, we'll fix it for free. Give us a call today for a free estimate!
Schedule A Deep Root Feeding Today
In addition to tree trimming and tree pruning, we also offer deep root feeding as part of our professional tree services. Crowded conditions, compacted soil, and limited root space can all inhibit a tree's ability to access the nutrients it needs to stay healthy. Deep root feeding is a specialized process of fertilizer application that can help to address these problems. Our certified tree specialists utilize professional tools and equipment to inject a unique blend of nutrients directly into the root zone, where it can be quickly absorbed by the tree. This process can help to restore struggling or sickly trees. At Chips Tree Service, we are proud to offer this service to our clients and are committed to proper tree care.
We have the years of experience and training needed to help home and business owners identify trees on their property that could benefit from a deep-root feeding service. Working with a tree care professional like Chips Tree Service helps ensure your trees remain happy and healthy. Feel free to give us a call today if you have any questions or would like to schedule a tree service.
We Provide The Professional Tree Treatment You Need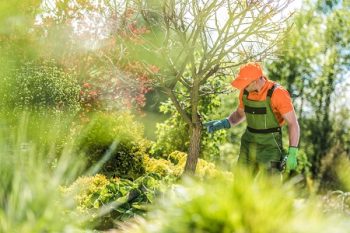 As any tree expert will tell you, regular maintenance, including fertilization, trimming, and pruning, are essential for healthy growth and proper tree care. When trees are neglected, they can become laden with pests, develop diseases, or rot away, becoming a potential hazard to nearby properties and power lines. At Chips Tree Service, we have a thorough understanding of Arizona arboriculture and know what each species of tree needs to thrive. Some trees may require more pruning, while others are more susceptible to root rot. When you have our professional arborists perform your tree service, you can rest assured that everything will be taken care of. Contact us today to learn more about how we can help you keep your property looking its best.
Common Tree Care Questions
What is tree care?
Tree care involves maintaining the health and appearance of trees, including pruning, trimming, fertilizing, and disease management.
How often should I have my trees inspected?
Having your trees inspected by a professional arborist at least once a year is recommended. Contact us today. We can help you.
What are the signs that my tree needs pruning?
Signs that your tree needs pruning may include dead or damaged branches, overgrowth, and leaning or unbalanced growth.
What are the benefits of tree pruning?
Benefits of tree pruning include improved tree health and appearance, increased sunlight exposure, and improved air circulation.
Can I plant a tree anywhere on my property?
When planting a tree on your property, it's important to consider factors such as soil conditions, sunlight exposure, and potential interference with power lines or buildings.
Your Search For Tree Care Near Me Is Over
Chips Tree Service is a locally-owned and operated company providing full-service tree solutions designed to keep your trees healthy and looking their best. With experienced crews and industry-leading equipment, we have the fastest turn-around times in the valley for getting your tree work completed. We understand the importance of having beautiful trees on your property and take pride in being able to provide our clients with the highest quality tree care services possible. Contact us today to schedule a consultation and find out how we can help you achieve the perfect landscape for your home or business.