When You Need A Tree Trimming Service, We're Here To Help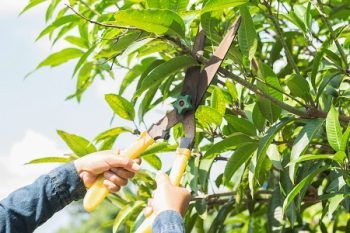 Trees are a great way to add beauty and diversity to your landscape, but it's important to remember that they require love and attention just like anything else in your yard. At Chips Tree Service, our team of professional arborists and knowledgeable tree experts are here to help keep your trees looking happy and healthy. Proper tree care encompasses a broad range of topics like watering and fertilization, as well as regular trimming and pruning. And while it might seem simple enough to chop off a few branches here and there, expert trimming requires a familiarity with the science of tree care. 
Our team understands that cutting away dead or diseased branches helps to promote healthy trees. Additionally, if parts of your tree are growing too close to your home or powerlines, it is important to have those branches cut back to protect your property from storm damage due to fallen tree limbs. We have years of experience caring for different species of trees for residential and commercial properties. If you need your trees trimmed, pruned, or anything in between, don't hesitate to give us a call!
Give Us A Call For Tree Pruning Service In Glendale
At Chips Tree Service, we know what needs to be done to keep your trees healthy and looking great. Tree pruning helps establish a strong structure for growth, which allows them to thrive. Without pruning, trees can appear unsightly, may be more susceptible to disease, and their size is often restricted. Pruning also improves the amount of sunlight that reaches the lower branches, greater fruit or flower production. We are happy to offer our consulting services for any tree project you have in mind and are committed to providing our customers with beautiful trees that are healthy and vibrant. Contact us today to learn more about our services.
We Are The ISA Certified Arborist You Can Rely On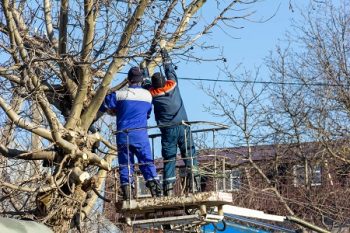 Being an ISA Certified Arborist sets us apart from other tree care companies. To earn an ISA Certified Arborist credential, you must be trained and knowledgeable in all aspects of arboriculture. The science of tree care is constantly evolving, and certified tree specialists must stay up-to-date on the latest research and techniques. Arborists that are certified by the International Society of Arboriculture are held to higher standards than other tree workers, providing home and business owners with the security that their trees will be well cared for. At Chips Tree Service, we are proud to have ISA Certified Arborists on our team! We are committed to providing the exceptional tree care you deserve and have the skills and knowledge to back it up. When you choose us for your tree care needs, you can rest assured that you're in good hands.
Your Search For Professional Tree Trimmers Near Me Is Over
At Chips Tree Service, we are proud to offer affordable tree trimming and other high-quality tree care services to help you keep your landscape looking its very best. We are your local tree company in Glendale, Arizona that strives to provide the professional tree care you need and the exceptional customer service you deserve. From trimming and pruning to professional tree removals and new tree planting, we do it all.  Contact us today for a free estimate!